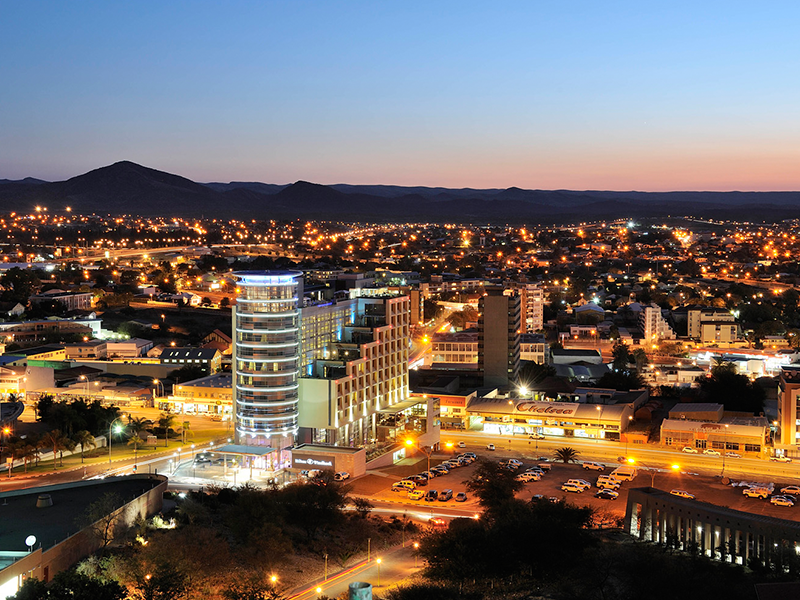 The Namibian economy has a modern market sector, which produces most of the country's wealth, and a traditional subsistence sector. Although the majority of the population engages in subsistence agriculture and herding, Namibia has more than 200,000 skilled workers, as well as a small, well-trained professional and managerial class.
Namibia is a low middle income country with an estimated annual GDP per capita of US$5,155 but has extreme inequalities in income distribution and standard of living. It leads the list of countries by income inequality with a Gini coefficient of 70.7 (CIA) and 74.3 (UN), respectively.
Namibia is heavily dependent on the extraction and processing of minerals for export. Taxes and royalties from mining account for 25% of its revenue. Rich alluvial diamond deposits make Namibia a primary source for gem-quality diamonds. Namibia is the fourth-largest exporter of nonfuel minerals in Africa, the world's fifth-largest producer of uranium, and the producer of large quantities of lead, zinc, tin, silver, and tungsten. The mining sector employs only about 3% of the population while about half of the population depends on subsistence agriculture for its livelihood. Namibia normally imports about 50% of its cereal requirements; in drought years food shortages are a major problem in rural areas.
The Namibian economy is closely linked to South Africa with the Namibian dollar pegged to the South African rand. Privatisation of several enterprises in coming years may stimulate long-run foreign investment, although with the trade union movement opposed, so far most politicians have been reluctant to advance the issue.
Onduli Electrical (Pty) Ltd is a Namibian Electrical company competing in the ever-changing world of Electrical Engineering. The company consists of three core areas of business:
Manufacture of portable earthing (grounding) related equipment
Distributor for HUBBELL POWER SYSTEMS
Field services work
We provide products & services to electrical utility companies (Eskom and municipalities), the rail network, as well as large industrial & mining corporations.
Bongani Investment Group is a majority shareholder in Bongani Timber, a company that has a license to procure timber from the Southern part of Angola. The business exports timber to Namibia and South Africa. The saw mill currently has 27 employees and an inventory of over 1800 cubic meters of cured hard wood.
Contact: Bongani Namibia