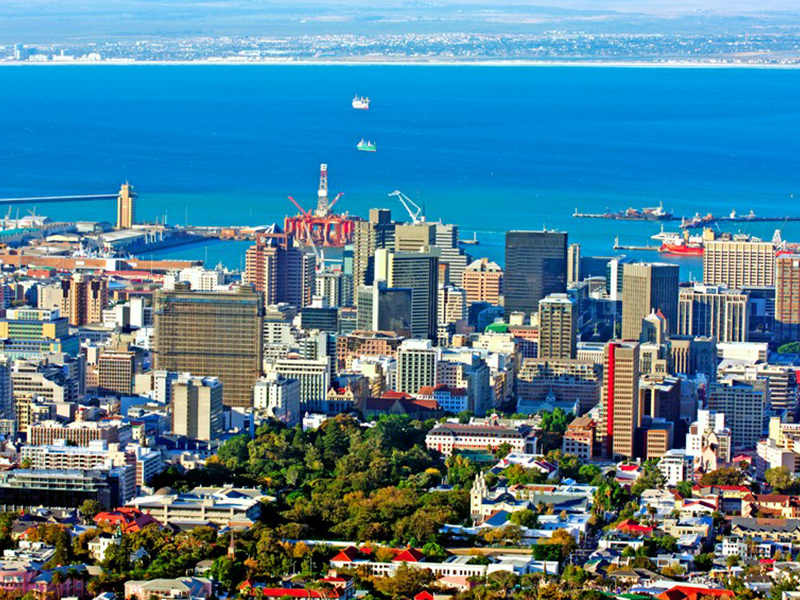 The economy of South Africa is ranked as a upper-middle income economy by the World Bank, which makes the country one of only four countries in Africa represented in this category, (the others being Botswana, Gabon and Mauritius).About a quarter of the population is unemployed,and lives on less than US $1.25 a day.
Advanced development is significantly localised around four areas: Cape Town, Port Elizabeth, Durban, and Pretoria/Johannesburg. Beyond these four economic centres, development is marginal and poverty is still prevalent despite government efforts. Consequently the vast majority of South Africans are poor. However, key marginal areas have experienced rapid growth recently. Such areas include Mossel Bay to Plettenberg Bay; Rustenburg area; Nelspruit area; Bloemfontein; Cape West Coast; and the KwaZulu-Natal North Coast.
The South African rand is the most actively traded emerging market currency in the world. It has joined an elite club of fifteen currencies, the Continuous linked settlement (CLS), where forex transactions are settled immediately, lowering the risks of transacting across time zones. The rand was the best-performing currency against the United States dollar (USD) between 2002 and 2005, according to the Bloomberg Currency Scorecard.
Bongani Properties

Bongani Properties is a fully owned subsidiary of Bongani Investments Holdings, specialising in acquisition, development, management and maintenance of properties, both commercial and residential. BP is also assisting governments outside South Africa to develop low-cost, middle and upmarket housing projects.

Bongani Investments & Consultants

BIC is the group's first division and remains it's largest. It is involved in the importation of goods and services mainly sourced from South Africa, Brazil, Portugal, China and U.A.E. Clients include the Government of Angola, various provincial governments, government parastatals and private sector.

Bongani Resources

This business division currently consists of 3 units

Bongani Industrial & Manufacturing

This is one of the group's fastest growing divisions. In partnership with other companies, BIM underlines it's involvement in the following :

Manufacturing of Plastic
Security structures for mini substations and electrical meters
Fast moving consumer goods